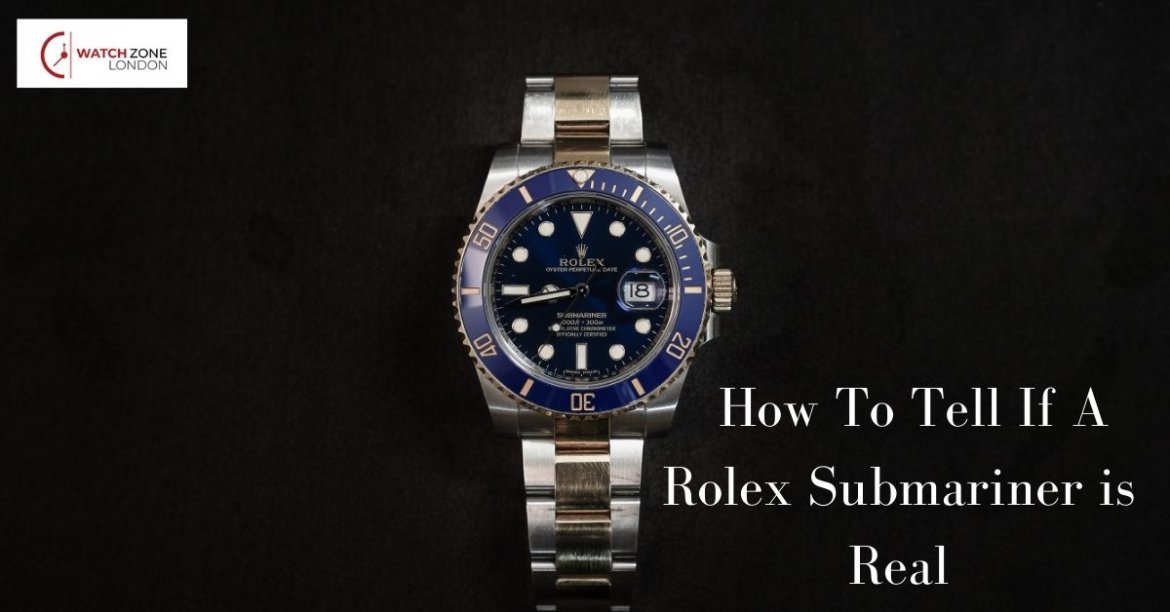 Not everyone can afford high-end luxury watches. Only 5% of the world population can afford thousands of dollars worth of luxury watches like Rolex, Patek Philippe, Cartier, Hublot, Chopard, or Omega.
There are lots and lots of replicas and fakes in the market, and sometimes it becomes very difficult to distinguish the original from the fake watches. So, if you are wondering, "how do I know if my Rolex is Real", this article is for you.
Always remember not to hurry the process. Take your time & scan the watch carefully. Here's how to tell if a Rolex Submariner is real.
How to Tell If a Rolex Submariner is Real
Here's how to spot a fake Rolex submariner:
Identify By Weight
The easiest way to identify a Rolex Submariner is by weighing it. Low-quality fake and replica watches use cheap, low-quality materials that are lightweight. An authentic luxury watch is heavy and weighs far more than a fake or replica. To be sure, take the submariner in your hand and weigh it. 
But beware, some high-quality replicas are also heavy as they are made from good materials. Still, they are not original and thus, will weigh less than the original.
Identify By Materials
An authentic Rolex submariner back and bezel are made of robust, corrosion-resistant 904L stainless steel. On the other hand, fake and low-quality replicas of the Submariner are made of cheap, low-quality materials. To check the material of the back of the Rolex submariner, try to scratch the surface. If it is original, there won't be any scratch marks. If it's not, it will leave a mark.
Also, the glass on the Submariner is made of sapphire crystal. It is also corrosion-free and fully transparent. So if the watch on your hand gets hazy from moisture and gets scratched easily, it's not the real one. 
Identify By Movement
Rolex Submariners have smooth sweeping movement, whereas replicas and fakes don't. Their internal mechanism is so detailed and intricate that it's impossible to imitate. The hands of a Submariner move flawlessly.
On the other hand, the hands of the low-quality fakes and replicas "tick, making them easy to distinguish from the original ones.
Identify By Fonts
The fonts on a Rolex Submariner are pretty impossible to replicate. Fakes and replicas can't copy the actual printing fonts, thanks to the manufacturers. If you carefully assess the watch on your hand, you may find a minor discrepancy between an authentic Rolex Submariner and a fake one. For example, replicas and fakes may not have date functions.
Identify By Hour Markers
Original Rolex Submariner watches have perfectly bordered hour markers, whereas the hour markers on the fakes and replicas look like stickers. The hour markers on the originals are sophisticated, and their colour is bluish-green. 
On the other hand, the colour of the hour markers in replicas and fakes change after some time. Scan carefully for any colour changes. 
Identify By Typefaces
Wrong typefaces are all over the fake and replica Rolex Submarines. These incorrect typefaces include spelling errors, wrong logos and spacing between letters, and distorted texts. If the watch you're holding in your hand has any of these problems, consider it a fake. 
Identify By Engravings & Serial Numbers
An Original Rolex Submariner has its engravings. A fake Rolex doesn't have one. Also, low-quality fake and replica Rolexes don't have serial numbers.
Some high-quality replica Submariners have serial numbers engraved, but you'll find that it's the same number on all the watches.
Identify By Price
Original Rolex Submariner prices start at £9,995 from authentic Rolex stores. The price is an indication of authenticity. Always buy from real Rolex retail shops or dealers. Never opt for unknown physical or online shops. Many online and offline shops sell fake or replica Rolexes. Don't fall for their traps and find an authentic Rolex shop near you. That way you can ensure the watch's authenticity.
Final Words
Now you know how to tell if a Rolex submariner is real. I hope you will implement this learning into action the next time you buy a brand new Rolex Submariner. 
If you like this article, you may like our blogs too.