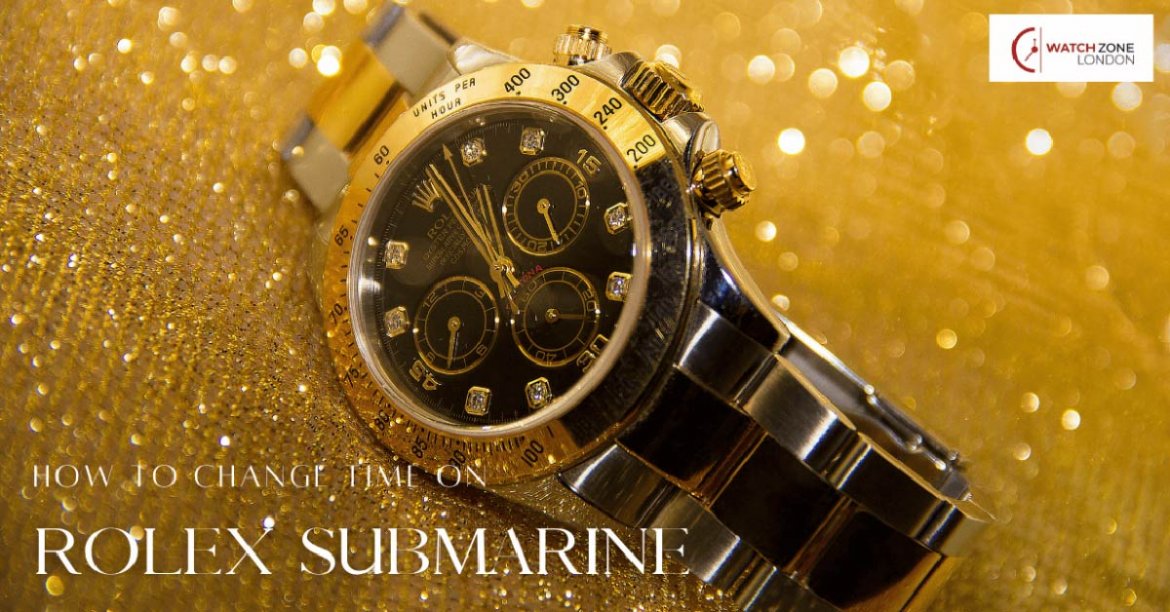 The Rolex Submariner was first invented in 1954. It's a diver's waterproof wristwatch that unlocked the ocean. It can cover a depth of 100 metres or 330 feet. It was a landmark in watchmaking and established a benchmark for waterproof divers' watches.
The Rolex Submariner's one-way rotatable faceplate is fundamental to the watch's functionality. It lets the divers monitor their diving time. The Cerachrom faceplate is made from rugged, corrosion-free ceramic and is scratchproof. Its colour doesn't get affected by ultraviolet rays, chlorinated or seawater.
Here is how to change time on Rolex Submariner and some valuable instructions on correctly setting the date and winding a Rolex Submariner. For your information, "crown" is actually the dial placed on the right side of the watch.
How to Change Time on Rolex Submariner
If you want to set the date and time on your Submariner, you have to wind the watch before starting to set it. A Rolex Submariner has 200 moving parts constructed together and makes for a complex artwork with accurate punctuality. But, let's discuss how to set up your Rolex Submariner. 
As Rolex is a mechanical watch, you need to wind it regularly. Various Rolex has distinct power reserves; that's why you need to know and comprehend the details of your Rolex Submarine.
Step 1: Winding the Watch Manually
If the date function has stopped working on your Rolex Submariner, it is probably because the watch hasn't been used for a while, and its power reserve dried out. In this case, you need to start by winding the clock manually. Rolex is an automatic watch, but they can run out of power and then you have to wind them to restart the power.
Wind your watch following this process:
Unscrew the crown counter wise till it comes out.

Then start winding the crown 25 to 30 times – clockwise. It is required only if you haven't worn your watch for 1 to 2 days.
Step 2: Changing the time on your Submariner
Here's how to change the time on your Rolex Submariner:
First, counter wise, unscrew the watch's crown till it comes out.

Then, fully extend the crown from that side.

To set the time, wind it clockwise or anticlockwise till you get the right time.

After the process is done, push lightly and then tightly screw it back to the place.
How to Change Date on Rolex Submariner
It is easy to change the date after you've winded your Rolex Submariner. Here's the process of quick setting the date on Rolex Submariner:
Release the crown to the first gap. 

Rotate the crown either clockwise or anti-clockwise, based on the model.

To set the time, unscrew your crown and pull it out to the second gap. After pulling it out, the second hand will stop, and you can easily set the time. Rotate the crown either clockwise or anticlockwise in order to set the date. To evade disorder between a.m. or p.m. hours, move the watch's hour hand to 12 am. If you see that the date has changed on the clock, know that it is set to midnight.

Screw the crown back. It will guarantee waterproofness and protect the watch from debris.
How to Keep Your Submariner Running Well
1. Wind it regularly
Mechanical watches must be winded periodically by hand to ensure that their internal parts are provided with enough kinetic power to move and show time accurately. Technicians recommend that you wind your watches at least 20 times a month.
2. Wear it more often 
When you wear a watch, kinetic energy generates on the wrist as you move. The kinetic energy transfers to the timepiece and keeps it running. So, the longer you wear the watch, the better it keeps the time. Ensure that your watch is being worn regularly, or it may become less accurate.
If you don't wear a watch, contemplate the idea of buying a watch-winder. These tiny devices turn your lesser-worn watches continually, imitating natural motion. So, leave your Rolex on an automatic watch winder when you're not wearing it, and it will prevent it from losing time as quickly.
3. Get it serviced if needed
Watches require regular servicing. A watch technician can alter or replace springs, repair any broken gear and keep the clock running as new. Take your Rolex to a specialist every year and check it for mechanical defects.
Watchmakers and technicians can identify difficult to explain problems that may cause your timepiece to run badly or stop completely.
Certain mechanical parts may wear out faster on replica models. It might be a good idea to get these parts replaced every so often.
To Conclude, 
The Submariner was explicitly created for underwater quests and diving. But it is equally helpful at home and has evolved to be the all-around signature watch sported by adventurers, filmmakers, athletes, artists, and people from all walks of life.
Now that you know how to change time on Rolex Submariner, we hope you'll implement this knowledge into action. If you liked this article, you might like our blogs.